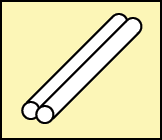 There are two types of pipes/tubes. One type covers seamless stainless steel pipes/tubes made by hollowing out billets into "seamless" tubular shapes and the other type covers welded stainless steel pipes/tubes made by folding steel sheets or strip into tubular shapes and then welding them. Seamless pipes/tubes generally have heavy wall thicknesses relative to their outside diameters, while welded pipes/tubes generally have light wall thicknesses. Seamless pipes/tubes have a higher reliability since there is no "seam" involved. But due to their relatively large production lots, seamless pipes/tubes are sometimes placed at a disadvantage in terms of economical efficiency.
Product form
Round pipes/tubes
Square pipes/
tubes
Welded
Seamless
JFE Steel Corporation
NISSHIN STEEL CO.,LTD.
Sanyo Special Steel Co.,Ltd.
NASTOA., LTD.
Nippon Metal Tube Co.,Ltd
Daigo Co.,Ltd.
MORY INDUSTRIES INC.
ARAYA SPECIAL METAL CO.,LTD.
STAINLESS STEEL PIPE KOGYO CO.,LTD.
Sumikin&Nippon Steel Stainless Steel Pipe Co.,Ltd.
Daiichi Stainless Kokan Co.,Ltd.
TOKUSHU KOKAN CO.,LTD.
Nippon Stainless Steel KOZAI Co.,Ltd.
IKURA SEIKI SEISAKUSHO Co., Ltd.